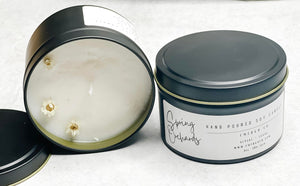 Spring Orchards Soy Candle
Regular price $14.99 Sale
Oh what a lovely scent it is! Opening notes of soothing, herbal lavender, bright, crisp apple, succulent pomelo and sun-kissed apricot will whisk you away to fields of lavender in bloom and apricot orchards in the springtime! Romantic endeavors of gorgeous magnolia blooms, fresh bamboo and enchanting dahlia will steal the heart and captivate the senses with this alluring fragrance. A base of sweet seduction captures the soul with warming nuances of rich sandalwood, cozy cedar, soft musk and cashmere woods, for a bouquet of sheer delight and botanical beauty!
All of our soy candles burn cleanly with eco and hand-poured into solid, stylish jars that fit with any decor. Use the lids as a handy coaster as well as a way to keep the dust off of the creamy white soy wax.
8 oz candle
We hand pour and hand make each candle, so the design may differ from what's pictured.
Our ingredients are as clean, safe and responsible as possible! We never use phthalates and parabens in our products!
Allow candle to burn for 2-3 hours for first burn to form a full melt pool. 
Once lit, do not leave candle unattended.
Use the lid as a convenient and beautiful coaster.
Trim the wick before each use.
Discontinue use once the level of the wax reaches 0.5 inches.
Burn only on even surfaces.